The Psychiatric Education and Research Foundation was established in January of 1990 as a 501(c)(3) charitable, non-profit philanthropic and educational organization to promote the goals of the Southern California Psychiatric Society and its member psychiatrists. Specifically, PER aims to foster the active participation of psychiatrists in our community to improve psychiatric care, increase access to treatment and fight against the destructive effects of stigma and discrimination of persons suffering from psychiatric problems through education and research.
The PER mission is "To build bridges of understanding between psychiatry and the general public through public education, research and community outreach."
Join PER Foundation for our 2017 Educational Events
Guided by its mission, the PER Foundation has been offering a wide range of educational programs, honoring courageous individuals and psychiatric trainees for their work and funding important research.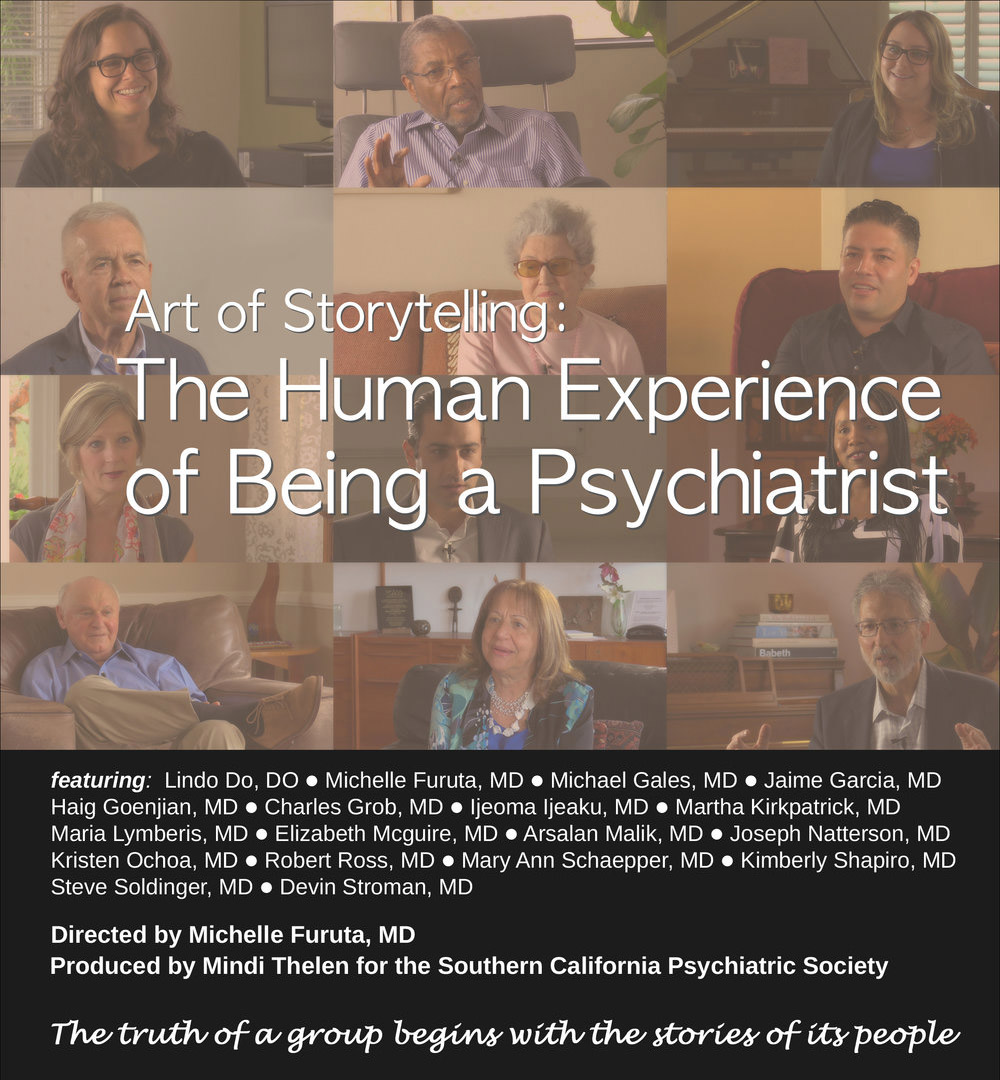 Continuing its tradition of presenting unique and memorable events, PER takes great pride in announcing the launch of its multi year educational project in partnership with key psychiatric, medical and nonmedical mental health professional organizations. PER is proud of its partnership with the Southern California Psychiatric Society, the Los Angeles County Medical Association and NAMI among others. As part of this educational project, PER is screening the SCPS' documentary film Art of Storytelling on September 9th in Santa Monica.
Art of Storytelling is a documentary film that details the subjective experience of nine psychiatrists. This moving and provocative film is a project of The Art of Psychiatric Medicine Committee of the SCPS. The film aims to humanize psychiatry and combat the toxic and damaging effect of stigma associated with psychiatry, psychiatric patients and the mental health field. PER is focusing on STIGMA because it presents a major impediment for the vast majority of individuals and families who need and can benefit from psychiatric mental health care. A short panel will follow the film screening introducing the film's creators and other commentators.
The September 9th educational event will include the 2017 PER Advocate Award. As PER celebrates the launch of its new phase of growth, it is fitting that the 2017 PER Advocate Award honors Founder and President Maria T. Lymberis, MD. For the past 27 years, Dr. Lymberis' vision, leadership and unwavering commitment to the mission of PER has inspired quality educational programs increasing awareness for the need for access to quality psychiatric and mental health treatment for ALL members of our diverse Los Angeles community.
Join us for the reception beginning at 6pm.
Awards & Screening begin at 7pm.
Unitarian Universalist Church – 1260 18th St, Santa Monica, CA 90404
You do not want to miss this event.
Do register now and bring your family and friends.
Thank you for your support PER's mission and programming.
All and every contribution to PER is encouraged as it makes our work possible.
Thank you for your participation
See you on Saturday September 9th 2017
MTL
PER Founding President
RSVP for The Art of Storytelling screening on September 9th in Santa Monica
Make a donation to The PER Foundation